Toronto Restaurants
There are over 5 million people populating the Greater Toronto Area, and they all need to eat. Which is why there are so many restaurants in Toronto.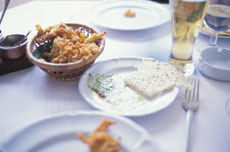 In the mood for a piece of schnitzel and some spaetzle? A bowl of mapo dofu over rice? Doro wat accompanied by a slice of injera? Toronto is a multicultural city; from Afghan to Zimbabwean, just about any nationality and ethnicity from around the world is represented in this metropolis. And chances are, their unique cuisine is represented, too.
While Toronto is a city that cherishes diversity, it also blurs the boundaries. Many restaurants in Toronto specialize in combining food from different cultural backgrounds, producing a cuisine referred to as "fusion". One may find the best of two worlds combined deliciously in a single dish.
Restaurants in Toronto are also prized for their ability to remain at the forefront of the culinary world. Several dining establishments throughout the city have been honoured by receiving two and three Michelin stars, the highest rankings given out by this respected guide to the gastronomical world, and many world-renown chefs have graced the kitchens of the city.
For a romantic and leisurely rendezvous or a quick take out to avoid the lunch hour rush, enjoy what Toronto restaurants have to offer.