Toronto Japanese Restaurants
It was just a little while ago when there was only a handful of Japanese restaurants scattered across Toronto. Perhaps considered too exotic, strange, or expensive, there was little demand for Japanese food in those days.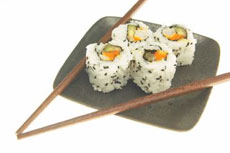 Today, it is a whole other story. Simply browsing through a restaurant directory, one can find over 200 restaurants listed which specialize in Japanese cuisine – definitely an indication of its incredible popularity. The Japanese population in Toronto is a modest one, but there is an inordinate number of Japanese restaurants in the city.
Don't know what the fuss is all about?
Think about a culinary tradition that values the importance of flavours harmoniously united, fresh quality ingredients, and food that is delightful to both the palate and eye. Whether skillfully prepared by master chefs of the haute cuisine world or by a housewife in her tiny kitchen at home, Japanese food has amassed a huge following of devoted fans, led mostly by their stomachs and taste buds. It is the appreciation of food and enjoyment.
Based primarily on fish and vegetables, Japanese food is an exotic and healthy alternative to traditional Western meat and potatoes. In fact, Japanese people have the longest lifespan in the world due to their healthy diet!
Japanese restaurants in Toronto offer all types of dishes, cooked and raw. So, if you think Japanese food is only about eating sushi, think again! There are plenty of other dishes you can choose from, many that don't even include raw fish.