Toronto Italian Restaurants
There are well over 100 Italian restaurants in the Greater Toronto Area. Whether in Little Italy, at a strip mall in the suburb of Woodbridge, or smack dab in chichi Yorkville, Toronto Italian restaurants have long been one of the most popular types of places to eat in the city.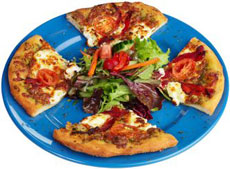 Expect a typical menu at an Italian restaurant in Toronto to offer a variety soups, salads, pastas, meat dishes, desserts, liquors and liquers – for many, Italian food is deliciously comforting. For a traditional and sinfully gratifying Italian meal, your stomach will have to go the whole nine yards. This means eating something from every part of the menu: an anitpasto as an appetizer, a first course like soup or pasta, a meat dish for the second course, a side dish of salad, a scrumptious dessert, a cup of espresso, and to top it all off, a small glass of liqueur known as a digestivo. Like the people of any country or background in the world, Italians are proud of their food. And with a full meal like that, who wouldn't be?
If you're on a tight budget, there are several reasonably priced Toronto Italian restaurants serving authentic home-cooked food in a friendly and casual atmosphere. On the other hand if your pockets are deep, there are several higher end Italian restaurants in the city. In fact, a few are world renown.