Toronto Indian Restaurants
Indian food is all about the spices. Each dish is a sophisticated blend of a variety of spices culminating into a single explosion of flavour in the mouth. Add the vegetables, meat and starch of choice and you have the makings of a fine meal served at any one of Toronto's Indian restaurants.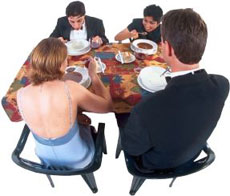 With a rich culinary history, the food of India predates modern times by thousands of years. In fact, it is believed that some of the most important spices in Indian cuisine, such as turmeric and cardamom, were harvested in the subcontinent as far back as 3000BC. Traditionally, the diet of the people living in most regions of India was entirely vegetarian. However, with the influx of Islamic culture and tradition, the vegetarian diet slowly changed and meat dishes became part of traditional Indian cuisine. Today, the food served in Toronto Indian restaurants is a result of years and years of gastronomical evolution.
Little India is the most popular place to eat. Located in the downtown east end, it is home to many of Toronto's best Indian restaurants. But don't restrict yourself from going elsewhere; in a city that is 629.91 square kilometres in size (and that doesn't include the Greater Toronto Area), there are many, many other Indian restaurants. Formal or casual, buffet or not, Toronto Indian restaurants contribute to the diversity of culinary delights the city has to offer.