Toronto Hungarian Restaurants
Hungarian food is often overshadowed by the cuisine of other European countries, such as French and Italian. However, in a city as diverse as Toronto, it would be a shame to miss the opportunity of dining at one of the many authentic Hungarian restaurants that Toronto has to offer.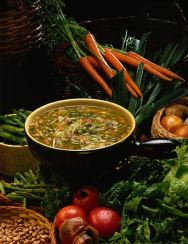 There should always be an abundance of good food and drink no matter how poor one is.
Hungarians hail from a country that is rich and fertile. Flora and fauna both thrive in this part of Eastern Europe, and this is reflected in their culinary tradition. Hungarian food utilizes ingredients harvested from the land (not so much from the sea) and is varied as well as flavourful, whether it be a simple garden salad or a rich and complex stew. Though the impact of foreign cultures throughout history may have influenced culinary techniques, one thing is for certain: the Hungarian food of today is far more unique than any other type of food in continental Europe. As a result, be prepared for a pleasant surprise!
Dining at a Hungarian Restaurant in Toronto
When visiting a Toronto Hungarian restaurant, expect dishes to be filling and comforting. Flavours that define Hungarian cuisine include sweet paprika, onions and sour cream. Meat dishes are plentiful, however there are some vegetarian dishes as well. Variations of potatoes dishes and dumplings are typical sides, and dessert at the end of the meal is a must!