Toronto Greek Restaurants
With the highest quality olive oil, sweetest honey, crispiest filo and most succulent meats and fish, the delights of Mediterranean cuisine can be found at Toronto Greek restaurants.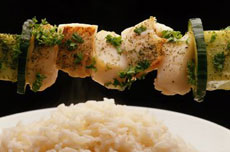 Greek restaurants in Toronto offer a culinary experience forged in a tradition of utilizing treasures from both land and sea. It is classic and authentic food meeting the new world. For the carnivore, Greek food offers a variety of meat based dishes including roast lamb, tender chicken souvlaki accompanied by freshly baked pita bread, or savory pork gyros topped with a dollop of garlicky tzatziki sauce. And if you're a vegetarian, there's no need to fret.
There are tons of vegetarian-friendly options in Greek food. Enjoy fresh spinach and feta wrapped in paper-thin sheets of filo pastry, a warm rich bean soup known as fasolada, or the comforting eggplant casserole of moussaka.
And after all of that? End the meal with a cup of strong Greek coffee and the Greek version of baklava for dessert - layered filo bursting with nuts and sweetened with syrup.
When you visit a Greek restaurant in Toronto, vegetarian or not, make sure you come hungry; the portions are guaranteed to satisfy!