Toronto Chinese Restaurants
With a population of 242,920 reported last year, Chinese people constitute one of the largest ethnic communities in Toronto. It's no wonder that the city boasts one of the largest and busiest Chinatowns in North America, located in the downtown core. It's also no wonder that when it comes to deciding where to eat, there are plenty of Chinese restaurants to choose from in any part of the city.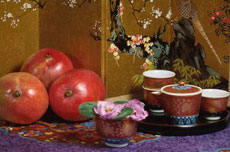 To the neophyte, Chinese food most likely means using chopsticks to pick at chop suey, lemon chicken, and wontons. And cracking open fortune cookies at the end of the meal, of course. But delve deeper into the menu and one will find culinary treasures of a culture dating back to thousands of years well before common era.
Diversity and Chinese Restaurants in Toronto
It would be a shame to clump all Chinese food into a single category. China has the highest population in the world, with a number of unique cultural and ethnic groups living within its borders. As a result, all Chinese food is definitely not the same. For example, food of the Hakka people living in the hills of southeastern China is characterized by the heavy use of pork, accompanied by preserved, fermented and dried ingredients. Sichuan (also spelt Szechuan and Szechwan) cuisine relies on generous amounts of a peppercorn native to the province. Fiery and flavourful, dishes one can expect to be served in a Chinese restaurant in Toronto specializing in Sichuan cuisine include Kung Pao chicken and Mapo Dofu.
Chinese restaurants throughout Toronto are numerous, but deciding on the type of Chinese food you'd like to eat can help limit the options.