Toronto Buffet Restaurants
When you're hungry, you don't want to wait around for your food nor spend a fortune on satisfying you're appetite. You want food at a reasonable price, and you want it now!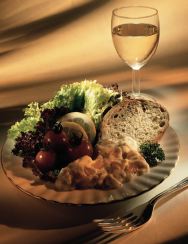 If you've got a bottomless pit for a stomach and only have so much money to spend, a buffet restaurant in Toronto is probably your best bet whether it be breakfast, lunch, or dinner. In fact, most are priced the same as what it would cost per person at a regular restaurant.
Buffet vs. All-You-Can-Eat
There are two types of buffet restaurants in Toronto: the traditional buffet style restaurant, and all-you-can-eat with table service. While both are technically "all-you-can-eat" at a set price, the traditional buffet style type is where the diner goes to a specific area in a restaurant to get their food. The food is then brought back with them to their respective table. At a buffet restaurant with table service, diners remain at their seat for the course of the meal. Dishes are selected from a menu and are brought to the table by waitstaff, made to order. The all-you-can-eat type tends to be more common for Japanese food.
Types of Food
Most of the more popular types of food are served at buffet restaurants, including Chinese, Japanese, Brazilian, Indian, Italian and Western style (good ol' meat and potatoes). Many buffets may have also diversified their menus to offer more than one type of food, defying cultural boundaries.