Toronto Family Entertainment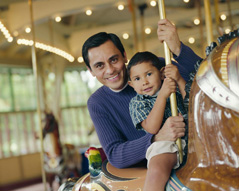 Your family consists of you and your better half, a preschool toddler, elementary school kid, and a teenager. Plus, you're on a budget. So when it comes to taking a day trip in Toronto with the whole family, you've got to plan how much you're going to spend, and make sure you and every member of your family enjoys it. Because, after all, it's your trip, too!
But it's difficult to find an attraction that appeals to adults and children of such different ages. One attraction may be too mature for the kiddies, while another is too immature for you. If it's not fun for the whole family, you'll probably think it's a waste of money and time Don't let your trip be a disaster. With Toronto attractions catering to family entertainment, you'll please the adults and all the kids.
The operative word in Toronto family entertainment is family. Whether you're just a few months old or a few decades old, there's something to see and do at these world class attractions. Fascinating exhibits to stimulate the mind, thrilling rides for the kids (and the adults who are kids at heart), and exciting games for all - Toronto family entertainment is the best way to beat boredom and the blahs.
Tip
Many family entertainment attractions in Toronto offer group discounts on entrance fees. Check an attraction's website before you go because it may not even be advertised at the door. It could even require advance booking. So team up with another family or two and take advantage of the deal!