Toronto Boat Cruise
With tons of green space, impressive architectural gems, and well maintained streets, Toronto is one of the most beautiful cities in the world. But with its strategic location on the shores of one of the five Great Lakes, party planners often ignore the beauty and splendor of Lake Ontario and opt for a more traditional venue. Unfortunately.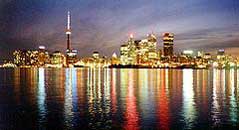 See Toronto from a different perspective and enjoy the beautiful skyline of the city day or night. For your next special occasion, event or function, take advantage of what Lake Ontario has to offer by traveling on its calm waters in style. Hire a Toronto boat cruise and make the occasion a memorable one.
Copious amounts of good food, entertainment to match the ambience and unmatchable luxury - book a Toronto boat cruise for your private corporate or elaborate social function. But there's no need to fret if it's just you and a friend (or loved one!). On several dates throughout the year and no matter what the season, there are also parties that are held on Toronto boat cruises which are open to the general public, many of which feature a theme. Simply check out the company's website for more information.
So next time you're in the mood to party, check out a Toronto boat cruise. And don't forget to bring your dancing shoes and appetite!