Placement and Use
Your lummessence Stage has several modes of operation.
At the front left of the stage you will see a brass embossment which acts as the switch for turning the stage on and increasing the light level generated. This switch is touch sensitive and does not require any pressure.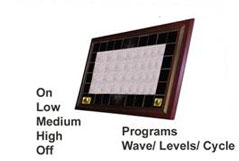 One touch turns the stage to the Low light level
Two touches brings the stage to Medium
Three gives the Maximum light level
Four turns the stage off
The Lumessence Crystal Stage automatically turns itself off after 3 hours of operation. If desired it can be restarted immediately.
At the front left of the stage the matching brass embossment allows different choreography of the light levels.
One touch will raise and lower the light levels across the stage from right to left in a Wave configuration. A full cycle takes approximately one minute.
Two touches will cause all of the light Levels go from high to low evenly over a 1 minute period.
Three touches will Cycle the lights from maximum to off in 30 seconds and then repeat.
Four touches will turn the choreography feature off. Alternatively you can turn the Crystal Stage off and then on.
Direct sunlight will not harm the electrical components of the Stage but may cause fading of the wood frame.
Your Lumessence Tableau will provide years of pleasure and significantly enhance the beauty of your crystal sculptures.
Care
Never immerse the Stage in water and avoid placement that may allow spillage onto the unit. This may cause damage to the electrical components. Such damage is not covered by your warranty. Dust may be removed with a soft cloth which may be slightly moist. If required tiles may be removed for cleaning.
Your Lumessence Crystal Stage is fully covered for defects in material and workmanship for two years from the date of purchase. Batteries are not covered under the warranty. Should you encounter a defect please send the unit postage paid to
Electro Guard Corporation