Toronto Lofts
Visit www.kingwest-condo.com for up-to-the-minute Toronto Loft and condo information!
Loft living is a lifestyle....a unique urban space that has contributed to the fabric of Toronto. Loft living not only defines the "New Toronto," but has also revolutionized development in the city. While all Toronto lofts are unique, they all have one thing in common: Space. In a city where space is limited, Toronto lofts offer open concept floor plans that utilize space, and natural light to give loft owners a feeling of calm, and serenity. Characterized by high ceilings, wood beams and support columns, exposed duct work, brick walls, over-sized windows, and open living space, Toronto lofts offer condo hunters a healthy alternative.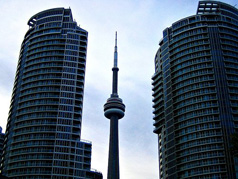 The origin of Toronto lofts came from dilapidated industrial warehouses and factories, that were eventually converted to residential units to satisfy their highest and best use. Many genuine loft conversions in Toronto have retained their signature industrial character, and refined their living space. This combination has afforded Toronto loft hunters optimal space, with an urban touch. Many new Toronto lofts have attempted to re-create this neoclassical feel by creating soft lofts in Toronto. These soft lofts are considered next generation lofts, and have taken the original loft characteristics such as high ceilings (9-12 feet high), over-sized windows, and open concept floor plans, and refined them to create boutique style loft developments that usually remain under 12 stories high. Toronto lofts have revitalized Toronto neighbourhoods such as King West, Roncesvalles Village, and Leslieville. Some of the Toronto lofts that have given King Street West it's new character include the Toy Factory Lofts conversion, and the Massey Harris Lofts. Other Toronto lofts that have been converted from old warehouses, and industrial factories include: Tip Top Lofts, Liberty Lofts, and the Chocolate Company Lofts
In Toronto, "Condo for sale" signs are everywhere. Why?
Official real estate figures show that not only are Condo sales prevalent overall but that condo promoters and condo builders in Toronto can barely keep up with the demand in sales. It is not rare to spot lineups at Condo Sales Offices throughout the GTA and mainly in the core locations close to the trendy downtown business, entertainment and shopping areas, which enjoy a welcoming neighborhood-oriented facelift. However this shift in Toronto Real Estate Sales seems to go beyond simple economics and reflects a new urban lifestyle and a need for practical community living.